Our Work
The Day Shelter is a safe haven for the most fragile and chronically homeless, disproportionately serving those with mental illness and/or physical disabilities

From its first night of operation, Good Shepherd's Night Shelter has set itself apart through its emphasis on working with guests to identify and overcome obstacles to securing and retaining housing
Conveniently attached to the Day Shelter, an on-site Medical Clinic provides guests with access to primary care, wound care, screening for chronic health conditions

Good Shepherd Center began as a modest Soup Kitchen in 1983, when a local church opened its parish hall to serve the homeless a lunch of soup and a sandwich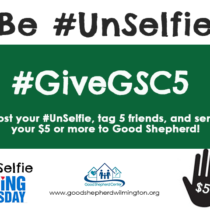 Be #UNselfie. This year, help us raise $5,000 to feed the hungry, shelter the homeless, and foster transition to housing. Giving Tuesday is the perfect time to give.
Give $5. Give $50. Give $500. Whatever you can do, it makes an impact.
Please help us continue our work as we help our neighbors experiencing crisis in New Hanover, Brunswick, and Pender counties by posting your #UNselfie and tagging 5 friends to get them in on the fun too.
#GiveGSC5 on Giving Tuesday.