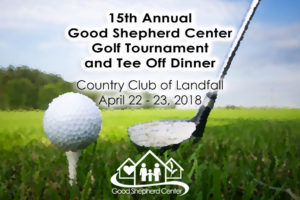 The History
Good Shepherd Center's Golf Tournament was created by a dynamic group of volunteers in 2003 and has grown to become our largest annual fundraiser. The event features a golf tournament, games day, and tennis mixer. The tournament expanded to a two-day event in 2017.
Saturday, April 21 – Tennis Mixer
9:30 am Check in; 10 am – 12 noon Play; 12 noon Lunch $35 participation fee; register at CCL Tennis Center in person or call 910.256.7625.
Sunday, April 22 – Tee-Off Dinner
5:30 pm, $50 per person (included with golf fees); Mingle with friends during the cocktail hour, enjoy live music by Kyle Garris, a delicious dinner, take a chance on some fabulous live and silent auction items at Country Club of Landfall.
Monday, April 23 – Golf Tournament and Games Day
Golf – 9:30 am Registration opens, Putting Contest begins; 11 am Shotgun start, Scramble Format; 3:30 pm Cocktail hour, Silent Auction, and Awards; 5 pm Auction closes. Included in your golf registration is a box lunch and a day of golf ($250 per person). ***Registration has closed; please call Stacy Geist at 910-763-4424 x113 to inquire about joining the waitlist.***
Games Day – 11 am Registration opens; 12:30 pm Lunch (optional, $16.50); 1:30 pm Play ($30 per person). Bridge, Hand & Foot, Mah Jong, Mexican Train, Poker…all games are welcome! Enjoy a wonderful lunch, silent auction and raffle.
***Games Day Online Registration is closed; please call Stacy Geist at 910-763-4424 x113 to inquire about availability.***
Sponsorship Registration is now open.
Founders | $35,000
•Celebrating Good Shepherd's 35th Anniversary
•Tailored golf participation
•16 tickets to Tee Off Dinner
•Logo on poster/banner
•Logo & business link on website
•Logo in golf program
•Business link and thank you on social media 4x
•Name on promotional materials
Anniversary | $15,000
•Celebrating 15 years of the Good Shepherd Tournament at Landfall
•Tailored golf participation
•12 tickets to Tee Off Dinner
•Logo on poster/banner
•Logo & business link on website
•Logo in golf program
•Business link and thank you on social media 3x
•Name on promotional materials
Diamond | $10,000
•Tailored golf participation
•8 tickets to Tee Off Dinner
•Logo on poster/banner
•Logo & link on website
•Name in golf program
•Business link and thank you on social media 2x
•Name on promotional materials
Platinum | $5,000
•Tailored golf participation
•6 tickets to Tee Off Dinner
•Logo on poster/banner
•Logo on website
•Name in golf program
•Business link and thank you on social media 1x
Gold | $2,500
•4 golf entry fees
•4 tickets to Tee Off Dinner
•Name on poster/banner
•Name on website
•Name in golf program
•Business link and thank you on social media 1x
Silver | $1,000
•2 golf entry fees
•2 tickets to Tee Off Dinner
•Name on poster/banner
•Name on website
•Name in golf program
Bronze | $500
•1 golf entry fee
•1 ticket to Tee Off Dinner
•Name on poster
•Name on website
•Name in golf program
Dinner | $7,500
•Name on Banner at dinner
•4 golf entry fees (1 team)
•6 tickets to Tee Off Dinner
•Introduction at dinner
•Name on website
•Name in golf program
•Business link and thank you on social media
Cocktail Hour | $2,500 – SOLD
•Name on Banner at dinner
•4 tickets to Tee Off Dinner
•Introduction at dinner
•Name on website
•Name in golf program
•Business link and thank you on social media
Golf Umbrella Sponsor $2,500
•Name on umbrella distributed to all golfers
•Name on website and in program
Cart Sponsor | $2,000
•Name on all golf carts
•Name on website and in program
Hat Sponsor | $2,500 – SOLD
•Name on hats distributed to all golfers
•Name on website and in program
Goody Bag Sponsor $1,500 – SOLD
•Name on goody bag distributed to all golfers
•Name on website and in program
Towel Sponsor | $1,000 – SOLD
•Name on towels distributed to all golfers
•Name on website and in program
Tee Hole | $300
•Name on tee/hole sign
•Name on website
•Name in golf program