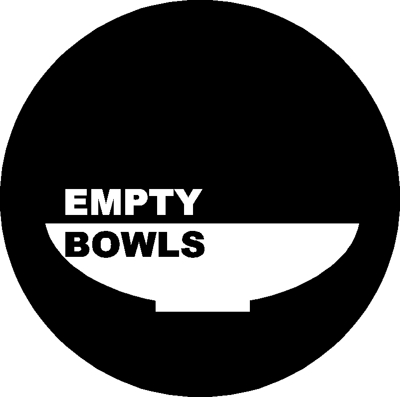 Friday, March 16, 2018 | 11 am – 1:30 pm
First Baptist Activities Center | 1939 Independence Blvd, Wilmington, NC
Tickets $20 | TICKETS GO ON SALE February 19th!
On March 16, 2018, Wilmington will hold its 9th Empty Bowls event to combat local hunger at the First Baptist Activity Center on Independence Boulevard.  The money raised is used by Mother Hubbard's Cupboard to provide non-perishable emergency food to the hungry in the area and by the Good Shepherd Center to feed the hungry and shelter the homeless in the Wilmington community.
The concept is simple.  Every other year, Wilmington residents purchase tickets for a meal of delicious soup and bread made and donated by area restaurants; each ticket holder selects a beautiful bowl created and donated by local potters to take home as a reminder of the local and global fight against hunger.
TICKET LOCATIONS – purchase your tickets in person with cash or check at any of the following locations:

Airlie Moon – Lumina Station
Art in Bloom Gallery – 210 Princess Street
Blue Moon – Eclipse Artisans Boutique – 203 Racine Drive
Carolina Beach Furniture – 1021 N. Lake Blvd., Carolina Beach
Jester's Cafe – 607 Castle Street
New Elements Gallery – 271 N. Front Street
Temptations – Hanover Center and Porters Neck
First Baptist Church Activities Center
Good Shepherd Center
Grace United Methodist Church
SEEKING SPONSORS
In 2016, Empty Bowls raised almost $50,000 for these two Wilmington charities. Corporate, small business and family sponsorships represented almost 35 % of the money raised in 2016. Since the amount of tickets we sell cannot outnumber the pots our local potters create, our sponsors are vital to increasing the amount of money we raise for these charities.
Your charitable donation will help raise awareness about the issues of hunger and food security in our area, as well as help bring Wilmington closer to becoming a community that does not allow hunger to persist.  As an added bonus, all sponsors who donate at least $100 will be part of a replaying power point at the event; the following sponsorship levels will also receive tickets to the 2018 event:
Golden Ladle Sponsors – $5000 (8 tickets)
Silver Spoon Sponsors – $2500 (6 tickets)
Bronze Bowl Sponsors – $1000 (4 tickets)
Copper Kettle Sponsors – $500 (2 tickets)
Sponsorships will be divided equally between Good Shepherd Center and Mother Hubbard's Cupboard. Download the Empty Bowls Sponsorship form here.
Please mail your completed Sponsorship form and checks (made out to Good Shepherd Center–be sure to put "Empty Bowls Sponsor" in the memo!) to: Empty Bowls Sponsorship, 811 Martin St. Wilmington, NC 28401.
For more information on sponsorship, contact:
Carmen Pope, MSW
2018 Empty Bowls Sponsorship Chair
910-231-3588
emptybowls2016@gmail.com
For more information about Empty Bowls, contact:
Jane Radack
2018 Empty Bowls Chair
Vice President, Mother Hubbard's Cupboard
910-793-9236
emptybowlschair@gmail.com