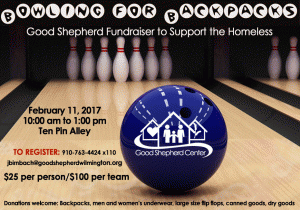 Join us on Saturday, February 11 as we host the 4th Annual Bowling for Backpacks
at Ten Pin Alley – 127 College Road.
10:00 am – 1:00 pm
Why Bowling for Backpacks?
Our homeless depend on their backpack; in many cases it's a lifeline. Most of what they own is in their backpack. You can bring an empty backpack, a full backpack or items to help fill backpacks such as new men and women's underwear, x-large and large flip flops, canned goods and dry goods.
This fun tournament is for all ages and skill levels  and will consist of 4-person teams bowling 3 games. Awards will be given out for highest team score total, highest men's score total, highest women's score total, highest kids score total and most creative team name. We will also have a paper bag raffle where you can win some wonderful prizes!
Come out and join us for a great time! To register online, click here. To sign up your team or help sponsor this event please contact: Jane Birnbach at (910) 763-4424 x110 or jbirnbach@goodshepherdwilmington.org