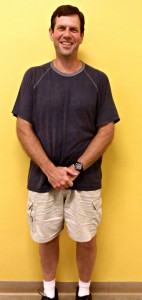 Joining the army out of high school, Paul quickly realized it was not the right career move for him. He spent 3 years in Germany and enjoyed being away from home for the first time. While there, he had easy access to alcohol in ways he never had before and his drinking soon became a way of life.
When he returned to the States, Paul enrolled in a local University in Western Virginia. His drinking caused problems and he couldn't keep up with his studies. He dropped out and after many attempts at rehab and staying sober, and a few brushes with the law, he ended up living in the woods not far from where he went to school.
In 2014, after an especially difficult night, he took himself to an ER and a doctor told him his liver enzymes were high. "That was when I realized I really could die from drinking," Paul admits. He inquired about a program for Veterans and it was suggested he come to Wilmington for the Ashley program at Good Shepherd.
When Paul arrived at Ashley – transitional and permanent supportive housing for Veterans in the early stages of recovery from substance abuse – he had no idea what to expect. He certainly never imagined he would find the success he enjoys today.
The journey wasn't easy but Paul remembers writing in his journal, "I had something to eat. I had a shower and I have a roof over my head. I guess things aren't so bad."
He also remembers arriving at the Ashley Center with nothing. Sneakers with a hole; and no clothes. "Some of the guys gave me their shirts so I'd have something to wear."
After having completed Ashley's 18-month intensive program, Paul continues his AA meetings and has reunited with his family. He also has a part-time job at Good Shepherd and returned to school at Cape Fear Community College this past spring where he ended his semester in Social Work with three A's and a B. He has been accepted to UNCW and will transfer there to earn his degree that he hopes will allow him to make a difference for others like him.
Thanks to friends like you, Paul will graduate from the Ashley Center with pomp and circumstance – and a new lease on life – including his own place to live.
Paul's advice for those fighting substance abuse comes from his own experience. "Keep an open mind. Give it a try. Stay sober for a little bit. Have some goals. It's a gift to know you can look ahead."