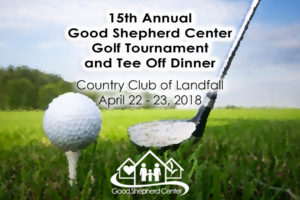 The History
Good Shepherd Center's Golf Tournament was created by a dynamic group of volunteers in 2003 and has grown to become our largest annual fundraiser. The event features a golf tournament, games day, and tennis mixer. The tournament expanded to a two-day event in 2017.
The Tee Off Dinner
Join us on Sunday, April 22 for dinner and live musical entertainment. Mingle with friends during the cocktail hour and bid on silent auction items. Enjoy a delicious dinner and take a chance on some fabulous live auction items.
The Golf Tournament
Included in your golf registration is a box lunch and a day of golf. After golf, enjoy a cocktail hour, bid on some great silent auction items, and enjoy the awards ceremony. Register online today
Games Day and Tennis Mixer
Bridge, Mah Jong, Mexican Train…all games are welcome! More details to come but plan on a wonderful lunch, silent auction and raffle, and the popular tennis mixer too. Games Day online registration is open!
Sponsorship Registration is now open.
Founders | $35,000
•Celebrating Good Shepherd's 35th Anniversary
•Tailored golf participation
•16 tickets to Tee Off Dinner
•Logo on poster/banner
•Logo & business link on website
•Logo in golf program
•Business link and thank you on social media 4x
•Name on promotional materials
Anniversary | $15,000
•Celebrating 15 years of the Good Shepherd Tournament at Landfall
•Tailored golf participation
•12 tickets to Tee Off Dinner
•Logo on poster/banner
•Logo & business link on website
•Logo in golf program
•Business link and thank you on social media 3x
•Name on promotional materials
Diamond | $10,000
•Tailored golf participation
•8 tickets to Tee Off Dinner
•Logo on poster/banner
•Logo & link on website
•Name in golf program
•Business link and thank you on social media 2x
•Name on promotional materials
Platinum | $5,000
•Tailored golf participation
•6 tickets to Tee Off Dinner
•Logo on poster/banner
•Logo on website
•Name in golf program
•Business link and thank you on social media 1x
Gold | $2,500
•4 golf entry fees
•4 tickets to Tee Off Dinner
•Name on poster/banner
•Name on website
•Name in golf program
•Business link and thank you on social media 1x
Silver | $1,000
•2 golf entry fees
•2 tickets to Tee Off Dinner
•Name on poster/banner
•Name on website
•Name in golf program
Bronze | $500
•1 golf entry fee
•1 ticket to Tee Off Dinner
•Name on poster
•Name on website
•Name in golf program
Dinner | $7,500
•Name on Banner at dinner
•4 golf entry fees (1 team)
•6 tickets to Tee Off Dinner
•Introduction at dinner
•Name on website
•Name in golf program
•Business link and thank you on social media
Cocktail Hour | $2,500
•Name on Banner at dinner
•4 tickets to Tee Off Dinner
•Introduction at dinner
•Name on website
•Name in golf program
•Business link and thank you on social media
Golf Umbrella Sponsor $2,500
•Name on umbrella distributed to all golfers
•Name on website and in program
Cart Sponsor | $2,000
•Name on all golf carts
•Name on website and in program
Hat Sponsor | $2,000
•Name on hats distributed to all golfers
•Name on website and in program
Goody Bag Sponsor $1,500
•Name on goody bag distributed to all golfers
•Name on website and in program
Towel Sponsor | $1,000
•Name on towels distributed to all golfers
•Name on website and in program
Tee Hole | $300
•Name on tee/hole sign
•Name on website
•Name in golf program